Joy Mercer

Born:

March 9, 1989

Born in:

Hong Kong, China

Occupation:

Actress, Singer, and Boyfriend Stealer

Years Active:

2007-present
Joy Mercer
is a very mysterious girl. In Season 1, she was kidnapped by Victor and the Secret Society, on the season finale she was found and put back at Anubis House. In Season 2, she is trying to steal Nina from Fabian. On the season finale, she was shot by a bolt by Nina when Nina was possessed by Senkhara! Joy and Fabian became just friends, but maybe in the future, they may date. Joy is played by Klariza Clayton.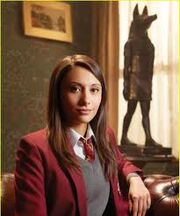 She is a main character.
Season One
Edit
In Season One, Joy was kidnapped by the Secret Society, since Victor thought that Joy was the Chosen One, when Nina was the true Chosen One. Joy was able to see the school play, but had to disappear when the play was over, being said, "It's too dangerous! You cannot meet your friends." Sibuna was trying to save her. Joy also had to reassure her friends that she was ok. It is unknown if she was forced to tell them or knew she was ok.
Season Two
Edit
In Season Two, Joy is back at Anubis House, but nothing is how she wants it to be. Nina is with Fabian and almost everyone is paired up exepect for Jerome and Joy. Sibuna is trying to solve the mystery, and Joy always thinks when theyr'e talking about the mystery, theyr'e talking about her. When Mara starts Jack Jackel, many people think it's Joy. When a mean article about Nina goes up, everybody thinks it was Joy who put it up(and it was) and Mara consults her. Later, when she discovers a ghost at Anubis House with the help of Eddie and Mara, Fabian begs her to not put it up. Joy says,"If you kiss me." Fabian started, but then stopped and said,"I can't." to which Joy replied,"Then I can't put the article up. You can't kiss me, I can't put it up." and Nina was overjoyed. When Fabian was under the curse of Nina, and they were playing a game, Fabian said,"Her." and threw the ball to Joy. Joy ran out in tears, crying, and Patricia came out, convincing Joy to put a little Joy back in her life. Close to the end, Joy becomes part of Sibuna and saves Nina. Joy may still be part of Sibuna, right now, she's an honorary member.